Unique Materials: Phoenix Super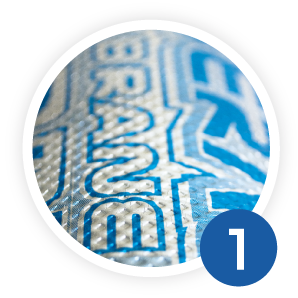 Durability and sustainability of a roofing system are directly linked to the quality of materials employed in its construction.
At the core of N.E.W. Systems is Phoenix Super, a unique waterproofing membrane, both in terms of technical specifications and ageing resistance. Phoenix Super features an APAO (amorphous polyalphaolefin) modified compound that has been specifically designed and tested by General Membrane's Research and Development laboratories. This compound combines the high temperature and UV resistance peculiar to the APP modified compounds (atactic polypropylene) with the flexibility at lower temperatures and elasticity of SBS compounds (styrene butadiene styrene). The APAO compound endows Phoenix Super membranes with properties that make it UNIQUE:
• Low temperature flexibility -35°
A trait that testifies to quality of Phoenix Super's APAO compound. Low temperature flexibility is the characteristic most widely employed as a reference when comparing the quality of different waterproofing membranes
• Flow resistance at high temperature 140°
A property that guarantees an excellent stability and consistency to the membrane during the installation process and a perfect performance when the roofing system is exposed to high exercise temperatures.
• Unaltered performance in time
The extraordinary characteristics afforded by Phoenix Super, unlike membranes using APP or SBS compounds, are not affected by ageing and are at the core of the exclusive durability guaranteed by its use.
This feature is proved by voluntary certifications released by important national and international institutes, which demonstrate the conservation of the product performances over time through standardised ageing test.
The values testified by British BBA and Italian DVT certifications bear testament to the extraordinary durability of Phoenix Super membranes, proving that their low temperature flexibility and flow resistance at high temperatures do not decay over time like ordinary membranes do, but remain the same, thas allowing for a life expectancy in well excess of 30 years.