Accurate Design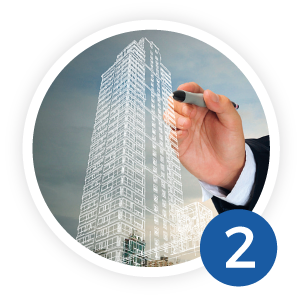 The choice of quality materials is a necessary, but not the only condition to guarantee an effective waterproofing.
A successful project starts with an analysis of the functional needs the roofing system must achieve -a necessary requirement in order to design a successful project- and that success is determined by the knowledge of possible interactions of the various materials comprising the roof build up as a whole, their careful choice, and by the diligent execution of installation and detailing, and finally an appropriately scheduled maintenance program.
General Membrane, as part of services provided for N.E.W. systems, offers assistance with its know-how to project designers and roofing contractors throughout the design process and offers multi-layered integrated roof build ups that guarantee durability and cater for the specific requirements of the roofing project.
The correct choice of materials is of paramount importance in designing a waterproofing system.
N.E.W. systems is based on the know how to successfully integrate high quality components with Phoenix Super membrane in the roof build up.
Furthermore, General Membrane offers tailor-made technical specifications (N.E.W. Systems Technical Specifications) that illustrate the characteristics and fixing directions of all products employed, together with the details that make up the roof build up system.
In order to counteract heat gain effect General Membrane proposes Green Roof solutions and N.E.W. Systems Technical Specifications that employ highly reflective membranes and paints in accordance with the indications of the International E.P.A. (Environmental Protection Agency, a U.S. institution devoted to the protection of the environment).
General Membrane aims work with project designers and roofing contractors, offering all its technical know-how in order to design a durable, sustainable and cost-efficient waterproofing solution.