General SOLAR PV - for bituminous roof, new or existing
General Solar PV system can be installed on bituminous roofs for refurbishment, new or existing roofs. The waterproofing layer of the system is the membrane Phoenix Solar APAO -35°C (DVT 007), employing high quality APAO polymers which gives longevity to the membrane and resistance to high temperatures on the roof. The system is bonded to the bearing surface through mechanical fixing of the intermediate layers by fully bonded system the final layer, in order to allow a long term high resistance to wind uplift. The photovoltaic module is totally adhered to the waterproofing membrane previously laid in order to ensure the waterproofing features of the system.
The possible solutions are:
Two-layers waterproofing system on the whole roof with Phoenix Solar membranes. The first layer is installed with mechanical fasteners. (20 years warranty).

Single-layer waterproofing on the whole roof with Phoenix Solar.

Single-layer Waterproofing just on the surface below the photovoltaic modules with Phoenix Solar Tech.
NEW ROOF OR RENOVATION
BEFORE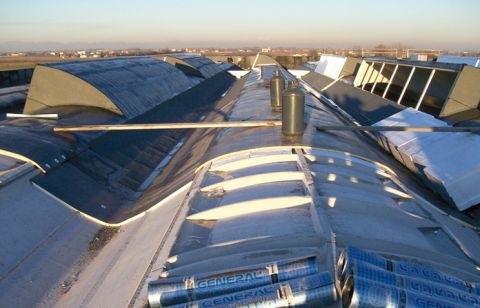 New roof beamy, cruciable: waterproofing with thermal insulation.
AFTER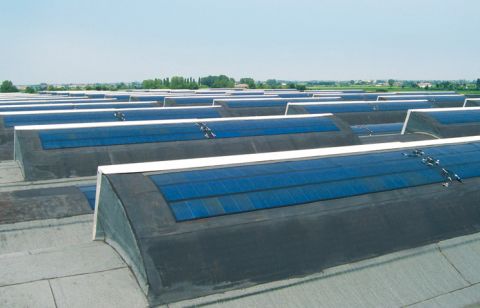 General Solar PV system placed on coppella and shed.
EXISTING ROOF
BEFORE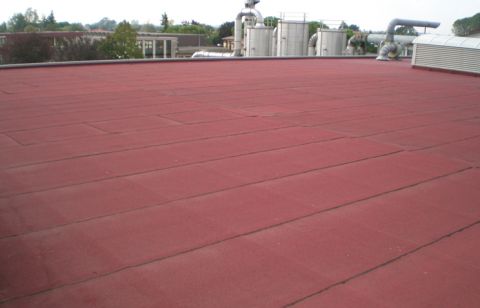 Exiting roof with mineral waterproofing membrane.
AFTER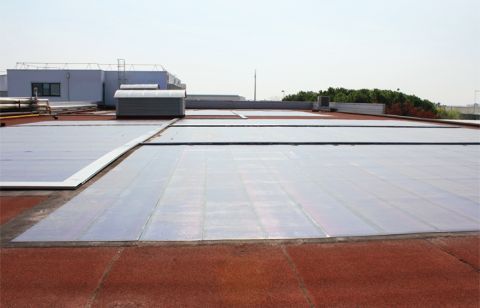 Application of General Solar PV on an existing roof without drilling the waterproofing layer.