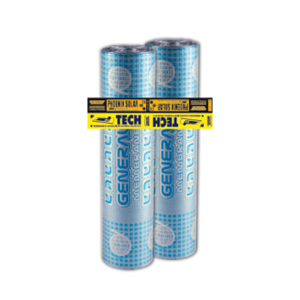 ---
PHOENIX SOLAR TECH is a bituminous waterproofing membrane specifically designed to receive GENERAL SOLAR PV S photovoltaic modules.
---
The compound employed by PHOENIX SOLAR TECH has been specifically developed by General Membrane Research & Development Laboratories for the application of GENERAL SOLAR PV S on waterproofing systems. It is exclusively modified with selected poly-alpha-olefin amorphous polymers (APAO) characterized by high adhesiveness, which allow to achieve flexibility at low temperatures equal to -35 °C, a much lower value than that of best SBS membranes.
This feature, which enables an easy application of the membrane, does not change in time.
Furthermore the APAO -35° C compound is extremely resistant to UV ray ageing action. PHOENIX SOLAR TECH is therefore a "non-ageing" membrane, and not being affected by thermal ageing it provides an extraordinarily long service life to the roofing system as required by the specific intended field of application (photovoltaic roofing systems).
The Reinforcement employed in PHOENIX SOLAR TECH membranes consists in a heavy-duty rot-proof spunbond non-woven polyester fabric reinforced with glass fiber, affording great elasticity, tensile strength and tear resistance. This is a "composite" reinforcement that combines the excellent mechanical properties of polyester reinforcements with the extraordinary thermo-dimensional stability typical of glass-fiber fabrics.
These combined properties avoid surface shrinkage and guarantee tensile strength, elongation and tear resistance allowing the membranes to absorb high levels of strain caused by structural movements of the underlying building and make it possible to employ mechanical fasteners to increase wind load resistance of the roofing system and withstand pedestrian traffic and static loads.
Different reinforcements, as well as any other custom configuration of the product may be necessary to the Client, are available prior agreement with General Membrane, but all changes are liable of invalidating the independent Certifications awarded to PHOENIX SOLAR TECH.
---